Department of Architecture, Infrastructure, Ocean Engineering and Ecosystem Science
Department of Architecture, Infrastructure, Ocean Engineering and Ecosystem Science
Environmental space science spreading from architecture to cities, regional ecosystems, oceans, earth and the universe.
The society that we should strive for in the 21st century is one that is in unison with the global environment, and where the cities, constructions and transportation systems developing in harmonious coexistence with the ecosystem. In order to aim at such a society, not only sophisticated expert knowledge but also the creative sensibilities, motivation and dedicational and ethical spirit are necessary, along with the need to nurture human resources who possess a broad and integrated perspective. This department deals with all the spaces where people live and work, from architecture to cities, regional ecosystems, oceans, earth and the universe. In other words, it explores the intellectual systems, theories and technologies for achieving space creation and space utilization to enhance the creativity, safety, comfort and functionality of human living and working spaces, and for enabling safe and comfortable movement in the spaces even including the universe, while attaching great importance to the ecosystem and the natural environment.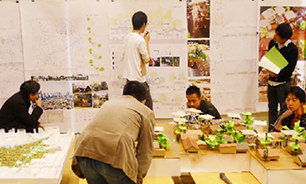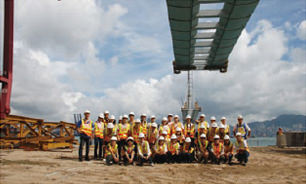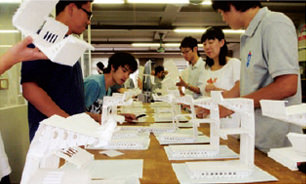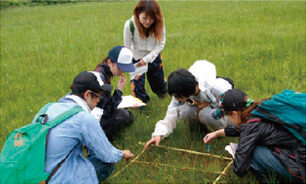 Education Programs
Architecture and Building Science Program
It fosters human resources with aspiration to be architects who can envisage urban architecture by studying architecture across a wide range from its philosophy and art to engineering, structural engineers who protect life and property from natural disasters, building environment and equipment engineers who make the life comfortable, and city planners who contribute to the urban development leading to the future.
Civil Engineering Program
The program trains civil engineers who study the field of civil engineering related to development, maintenance and use of social infrastructure systems indispensable to people's lives, who enable the coexistence and harmony between the natural environment and a prosperous urban life, contributing to the social infrastructure development in developing countries and environmental protection on a global scale.
Systems Design for Ocean-Space Program
The program trains engineers who study naval architecture and ocean engineering and aerospace engineering for designing large and complex marine structures and ships and aircrafts in harmony with the environment, and for creating a better flow of people and goods through the navigation of ships and aircrafts.
Ecology, Earth and Environmental Science Program
Students learn about basic and applied aspects of ecology, earth and environmental sciences at the local to global scale. This program aims to develop human resources who can formulate the management plans for social and ecological systems and contribute to the decision-making in various socio-environmental situations. Some students are also trained to become a scientist to further develop the disciplines of natural environmental sciences and to become a teacher to impart the knowledge to the next generation.
Laboratories
Architecture and Building Science Program
Civil Engineering Program
Systems Design for Ocean-Space Program
Ecology, Earth and Environmental Science Program