Department of Chemistry, Chemical Engineering and Life Science
Department of Chemistry, Chemical Engineering and Life Science
Education and Research for the Pursuit of truth and Applications in the Field of Chemistry and Advanced Biotechnology.
The development of modern material civilization is based on the advanced science and technology. It is created distinguished research and production systems using materials and technology supported by the development of creative natural science. For the sustainable development of the system, exploration of superior substances and materials, construction of the production systems, and breakthroughs and applications of new life phenomena are important, and a comprehensive system that goes beyond the conventional academic disciplines is required.
This department aims to develop human resources with an international perspective, who focus on chemistry and life, and possess fundamental skills and comprehensive strength that can address a wide range of related issues in an integrated manner, and who can keep pace with the fast-evolving science and technology. We are seeking to enroll students, who are interested in the pursuit of nature's truth, manufacturing, energy, environment and safety and life, who have sound knowledge and passion for an earnest study of the natural sciences, who want to create a prosperous human society, and who are full of ideas and can demonstrate flexible applied skills.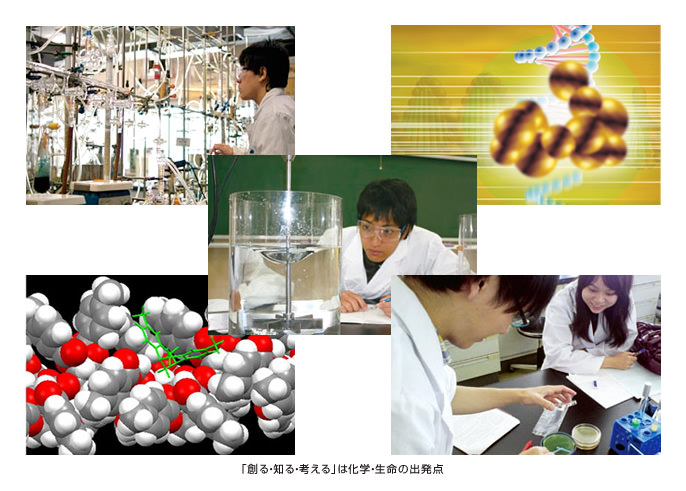 Education Programs
Chemistry Program
This program trains scientific researchers having sufficient basic knowledge of chemistry who can solve the truth of the material of interest through the atomic and/or molecular worlds by drawing their knowledge from various natural sciences, and scientific engineers who can think over the leading-edge chemistry and can contribute to the technological innovation by drawing their skills.

Chemistry Applications Program
It trains engineers and researchers who, by utilizing physics and by applying fundamental knowledge of chemistry, can contribute to solving the challenges for the future society, such as development of advanced chemical reaction processes, high-tech materials and new energy materials, and practical safety management and environment creation.

Life Science Program
It trains engineers and researchers who can understand life through the means of modern biology that builds on biology, chemistry and physics, and can apply its results to the pressing global challenges such as food problems and life and medical care.